---
Audubon Teachers attend Video Workshop at
Video Documentation Fund and
North Park Nature Center

---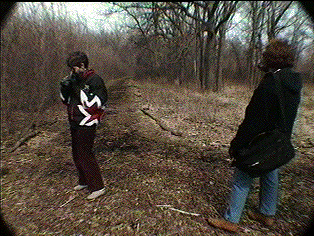 Audubon teachers video document restoration of Oak Savanna at North Park Nature Center. At this point you can see open areas on the right where buckthorn was cut away, and a wall of uncut buckthorn on the left.
A Video Workshop, Sponsored by the LEAP/Annenberg Initiative, was developed around project documentation.



---
---
Workshop Participants:
Renee de la Cruz
Therese Kenneally
Gerry Kulans
Joanne Ruppert
Workshop Leader: Cynthia P. Gehrie, Ph.D. -- Video Documentation Fund


---
Purpose of the Documentation Project
North Park Nature Center is administered by the Department of the Environment, City of Chicago. A rare Oak Savanna has been preserved as part of North Park Village. It is being restored, a process of removing invasive brush and planting native seeds so that the grasses and forbes that should be swaying under the Oak canopy will grow back. In addition to restoring the Oak Savanna community, the entire project included the construction of swales and a marsh pond to bioengineer flood control and use the purifying features of wetlands to improve ground water run off from parking lots and buildings at the Village.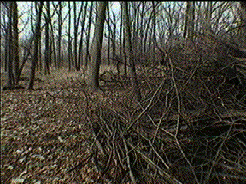 When buckthorn is cut and stacked in piles, the area under the Oaks is opened and ready for reseeding the grasses and forbes that belong there.

Along this path, buckthorn forms a wall on both sides, stealing the sun and moisture from native grasses and forbes.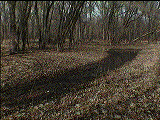 This swale was constructed to drain water to the marsh pond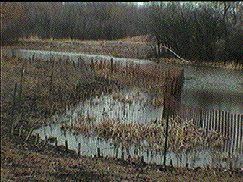 Which is being replanted with wetland species.


---
The purpose of this project was to document features of the landscape and its restoration, through the eyes of teachers being trained in video documentation. The teachers were new to both the use of video and the concept of ecological restoration. The approach was to introduce teachers :
to the nature and use of video to create data base,
to strategies for the co-construction of project data base,
to the creation of archives for data base,
to scripting and editing of video files,

and to see the North Park Nature Center restoration project through the eyes of teachers, as they practiced collecting documentation data on video.

---
Menu / Workshop Schedule
Additonal Categories:

Co-Constructing Categories of Emergent Data Base from Videotape
Teacher Experience / Student Experience
The Artistic and Scientific Perspectives of Place