Internet Shopping

I am happy to offer Black Walnut Drawing Ink to artists looking to use this unique ink for drawing, mixed media painting or as a stain. It has been four years since we had the right black walnut harvest to make this ink. This year the husks were abundant, rich in quality, and harvested before their depth was diluted by rain or snow.

Black Walnut Drawing Ink

Because every batch of ink is unique, each bottle has a swatch and batch number to use when reordering ink. When reordering, send it so that we can try to match your new bottle to the one you wish to replace.

Ink bottles are hexagon in shape to lessen the chance of knocking them over during use. Both the 1.5 oz. and the 4 oz. size have a wide mouth with a twist off opening for optimal acess.

Place orders with any credit card using the Pay Pal interface. (It is not necessary to pay with Pay Pal to use this interface.) There is a $10.00 charge for Priority shipping and handling in the US. Only orders in the US are accepted. For special considerations or requests email Cynthia Gehrie at vdf19@msn.com.

A. Schoolboy Ink - luminous, golden ink (see drawing below), very workable and forgiving ink that can be used like watercolor.

1.5 oz - Schoolboy
Price: $7.00
4 oz - Schoolboy
Price: $20.00

You can specify the quantity of the item you select in the dropdown after you click the Buy Now button. < B. Double Boil - for a darker, more dense ink -- this ink will be available in January.

C. Ground squeeze - When the above inks are drawn off, there are very wet husk grounds left behind. We squeeze these using a cheese cloth. The result is thicker and darker. A limited amount of this ink will be available in January.

We are still producing ink, but so far this year looks like a special one. The first pour, virgin quality ink is the perfect balance of deep golden brown and a watery, very viscous texture. Traditionally called Schoolboy Ink, it is lightfast, but liftable. This beautiful ink allows you to apply it like watercolor with a brush or pen, blend with a damp brush, and easily lift a splotch or spill. Simply add ink into a mark to deepen the color where you want it darker. It is lightfast, but NOT WATERPROOF! See the sketch below.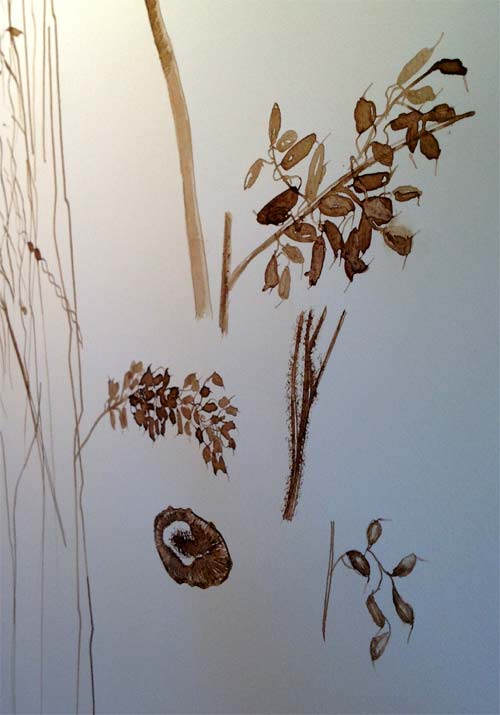 Quick sketch using Schoolboy Ink.

Return to Menu