---
Transition to Lunch Activities
---


After the dune tour, the kids walk back to the bus. We board the bus and arrive at the Mt. Baldy area where we will eat the sack lunches the kids brought with them.

The girls form one group and the boys form another. Both groups choose a dry area under a covered walkway to sit down in small clusters.

Girls group settling in to eat lunch.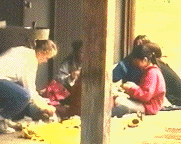 Boys group eating lunch.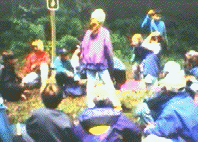 Bonita's class eats in a separate area from Katy's. After lunch I go over to Bonita's group and watch them play duck, duck, goose.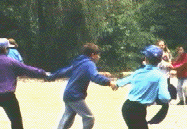 Rick is organizing some games in a large open gravel area. The game is a kind of tag where people become attached to groups when they are tagged. The groups build in size until there are 6 per group at which point they can break apart.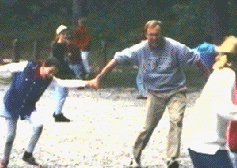 Rick and Dick (the principal) join in and play the group tag.

They play for quite a while. Then they take a rest.

JP, our new Ranger guide, arrives. We head out toward Mt. Baldy with Katy's class.


Return to Field Trip Menu