---

Transfer from Bus to Naturalist Guide

---
We leave for Indiana Dunes at 7:00 AM from Hubbard Woods School, Winnetka, Illinois. There is light rain when we arrive at the Rangers' Station. Katy tells her students, "All you need is your notebook." The kids are reminded that now is the time to go to the bathroom. Mr. Sitz, the gym teacher, accompanies a few boys to the washroom. Dick Streedain, the principal and Charlotte Bond, the art teacher are also on the trip. Katy Beck's class and Bonita Cervantes' class are here.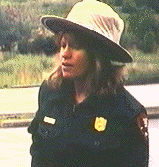 We are divided into two groups. Each will have the "habitat" experience, which was selected by the teachers from several possible classroom experiences.
Our Ranger guide, Christie K. welcomes us and tells us that in the morning we will do the habitat experience and in the afternoon we will climb Mt. Baldy.

She asks the group. "Do you know what a habitat is?" The students respond that it is an area that supports plant and animal life.

CK explains that she has brought tools to use to measure elements in the habitat.

(The Measurement Kit and Ground Rules)


Return to Field Trip Menu